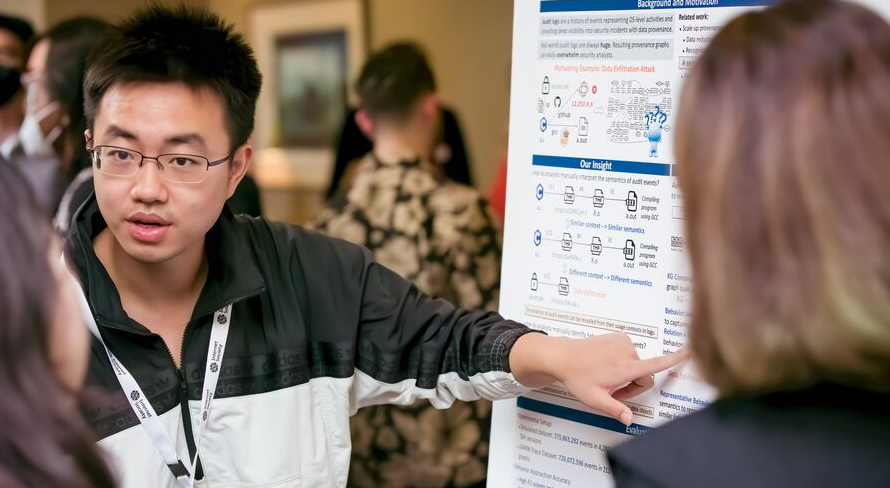 Jun ZENG (曾俊)

Research Scientist at HUAWEI
Contact: junzeng@u.nus.edu

About Me
---
Hi, I am Jun ZENG. Currently, I am a research scientist at Huawei. I earned my Ph.D. degree (advised by Prof. Zhenkai LIANG) from the National University of Singapore in 2023. I received my B.E. degree in Computer Science at the Huazhong University of Science and Technology in 2018.

My current research interests lie in the interactions of system security, program analysis, and AI for security. Currently, I mainly focus on detecting and investigating cyber attacks (e.g., APTs) using audit log analysis and binary analysis.

Apart from Computer Science, I enjoy playing DOTA2 (Ranking: Divine), traveling and watching movies.
Featured Publications
---
[EuroSys 2024] Automatic Root Cause Analysis via Large Language Models for Cloud Incidents. (To Appear)
- Yinfang Chen, Huaibing Xie, Minghua Ma, Yu Kang, Xin Gao, Liu Shi, Yunjie Cao, Xuedong Gao, Hao Fan, Ming Wen, Jun Zeng, Supriyo Ghosh, Xuchao Zhang, Qingwei Lin, Saravan Rajmohan, Dongmei Zhang, and Tianyin Xu
In Proceedings of the 19th European Conference on Computer Systems [Acceptance Rate: TBD]
Paper

[ICSE 2023] Learning Graph-based Code Representations for Source-level Functional Similarity Detection. (To Appear)
- Jiahao Liu*, Jun Zeng*, Xiang Wang and Zhenkai Liang. *Co-Primary Author
In Proceedings of the 45th International Conference on Software Engineering [Acceptance Rate: 26.1%]
Paper | Slides | Code | Artifact Evaluation

[CCS 2022] PalanTír: Optimizing Attack Provenance with Hardware-enhanced System Observability.
- Jun Zeng*, Chuqi Zhang*, and Zhenkai Liang. *Co-Primary Author
In Proceedings of the 29th ACM Conference on Computer and Communications Security [Acceptance Rate: 22.5%]
Paper | Slides | Code

[ESORICS 2022] AttacKG: Constructing Technique Knowledge Graph from Cyber Threat Intelligence Reports.
- Zhenyuan Li, Jun Zeng, Yan Chen, and Zhenkai Liang.
In Proceedings of the 27th European Symposium on Research in Computer Security [Acceptance Rate: 18.5%]
Paper | Slides | Code

[Usenix Security 2022] FlowMatrix: GPU-Assisted Information-Flow Analysis through Matrix-Based Representation
- Kaihang Ji, Jun Zeng, Yuancheng Jiang, Zhenkai Liang, Zheng Leong Chua, Prateek Saxena, and Abhik Roychoudhury.
In Proceedings of the 31st USENIX Security Symposium [Acceptance Rate: 18.1%]
Paper | Slides | Code

[ISSTA 2022] Tell: Log Level Suggestions via Modeling Multi-level Code Block Information.
- Jiahao Liu, Jun Zeng, Xiang Wang, Kaihang Ji, and Zhenkai Liang.
In Proceedings of the 31st ACM SIGSOFT International Symposium on Software Testing and Analysis [Acceptance Rate: 24.4%]
Paper | Slides | Code

[S&P 2022] ShadeWatcher: Recommendation-guided Cyber Threat Analysis using System Audit Records
- Jun Zeng, Xiang Wang, Jiahao Liu, Yinfang Chen, Zhenkai Liang, Tat-Seng Chua, and Zheng Leong Chua.
In Proceedings of the 43rd IEEE Symposium on Security and Privacy [Acceptance Rate: 14.5%]
Paper | Slides | Demo | Code | Talk

[NDSS 2021] Watson: Abstracting Behaviors from Audit logs via Aggregation of Contextual Semantics
- Jun Zeng, Zheng Leong Chua, Yinfang Chen, Kaihang Ji, Zhenkai Liang, and Jian Mao.
In Proceedings of the 28th Annual Network and Distributed System Security Symposium [Acceptance Rate: 15.2%]
Paper | Slides | Talk

Invited Talks
---
- Investigating Security Incidents with System Auditing and Analysis
&nbsp&nbsp&nbsp- Huawei, Munich, Munich , March2023
&nbsp&nbsp&nbsp- Zhejiang University, Zhejiang, China, February 2023

- AttacKG: Constructing Technique Knowledge Graph from Cyber Threat Intelligence Reports
&nbsp&nbsp&nbsp- ESORICS 2022, Copenhagen, Denmark, September, 2022

- ShadeWatcher: Recommendation-guided Cyber Threat Analysis using System Audit Records
&nbsp&nbsp&nbsp- S&P 2022, San Francisco, CA, May, 2022

- Watson: Abstracting Behaviors from Audit logs via Aggregation of Contextual Semantics
&nbsp&nbsp&nbsp- NDSS 2021, Virtually, February, 2021

Work Experience
---
- Summer Intern [March - July 2018]
&nbsp&nbsp&nbsp- Apple, Shanghai, China
- Researcher [August 2023 - Present]
&nbsp&nbsp&nbsp- Huawei, Hangzhou, China
Teaching Assistant
---
- CS2107 Introduction for Information Security with CHANG Ee Chien and Sufatrio
&nbsp&nbsp&nbsp- Semester 2, 2018
&nbsp&nbsp&nbsp- Semester 1, 2019
&nbsp&nbsp&nbsp- Semester 1, 2020

- CS5331 Web Security with Zhenkai Liang
&nbsp&nbsp&nbsp- Semester 1, 2018
&nbsp&nbsp&nbsp- Semester 2, 2019
&nbsp&nbsp&nbsp- Semester 2, 2020